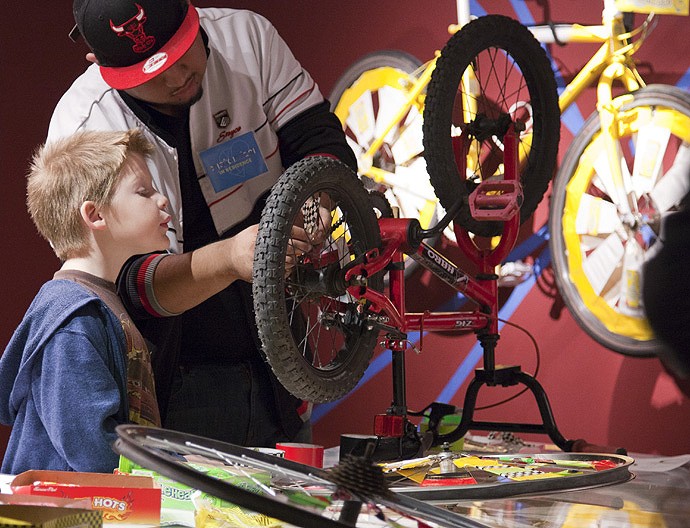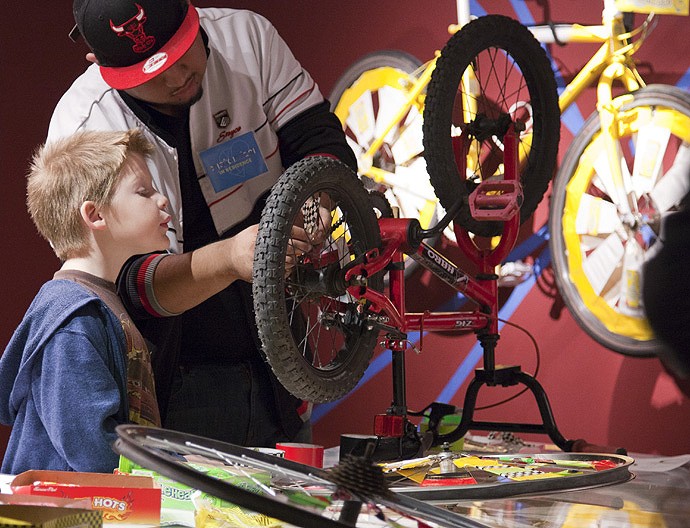 we/customize
February 9–June 2, 2013
From rat rods and lowrider bikes to Kinect and Ikea hacks, people are customizing mass-produced objects as part of artistic and personal expression more today than ever before. Inspired by maker culture, the experimental, participatory, process-oriented outreach project and exhibition we/customize includes multiple phases from taking OMCA outside its walls and inviting the public to participate in creative activities and demonstrations, to engaging visitors in the gallery installation process. The project culminates in an exhibition exploring the many ways people customize objects in their daily lives and the communities that participate in the culture of modification. Participants upload and view their own creations on the we/customize Tumblr and flickr sites, and provide valuable feedback which helps shape the next phase of the project.
PHASE I: The Oakland Rover Missions
September 26-December 22, 2012
Using the Oakland Rover-an electric vehicle altered by designers Martin Sprouse and Dan Rosenfeld, in collaboration with Museum curators, OMCA travels throughout California, engaging communities in creative projects that explore how people modify objects to serve their own needs. The Oakland Rover opens up into a mobile museum experience that supports engaging, hands-on activities, which take place in a series of 'missions' to different locations-from the East Bay Mini Maker Faire to the Oakland Art Murmur.
PHASE II: Great Hall Rove-in
December 22, 2012-January 28, 2013
The Oakland Rover's journey culminates in OMCA's Great Hall on December 22, when it arrives in the gallery. The exploration of customization continues, this time with the transformation of the gallery itself! With paint still on the walls from the previous exhibit, OMCA will gradually fill in the space with findings from the Oakland Rover missions as well as visitor input. Visitors can view the exhibition-in-progress both at the Museum and online, and participate in co-creating and developing we/customize through hands-on projects and social media. Starting January 4, guest customizers will be on-site demonstrating their work and inviting visitors to join their projects, from scraper bike-making to toy hacking to clothing customization. Visitors can drop in, roll up their sleeves, meet customizers, and participate in the customization of their own objects, many of which may make their way into the exhibition.
PHASE III: Exhibition
February 9, 2013-June 2, 2013
The next phase of the we/customize project is the exhibition, exploring the many expressions and forms of personal customization. Engaging programs continue with weekly Customizers-in-Residence Open Studios, where visitors of all ages will be invited to meet customizers and participate in workshops with a variety of hands-on activities.
PHASE IV: Roving on
When the exhibition closes, the Oakland Rover's journey continues, with on and off-site projects that continue the discussion about California and other OMCA projects in the Bay Area and beyond. Stay tuned to wecustomize.org for more updates on the Rover's post-exhibition life.
What do you customize? Share your work
What do you customize, hack, remix, tailor, or trick out? Contribute to our participatory exhibit by sharing your customized creations. Follow the we/customize team on Tumblr and upload photos to be a part of the action.
we/customize is made possible in part by the generous support of the Oakland Museum Women's Board. Additional support is provided by Pacific Gas and Electric Company.