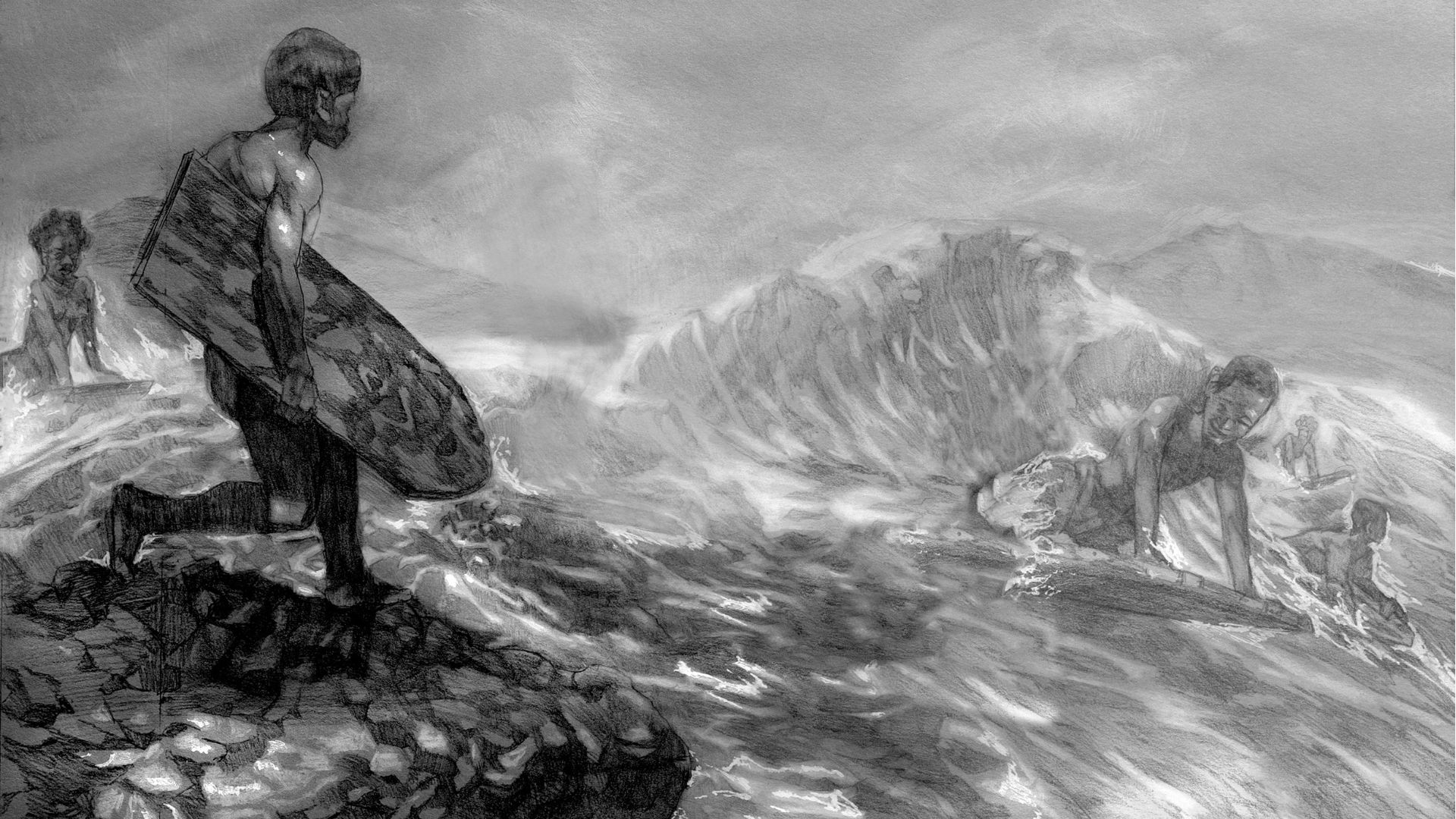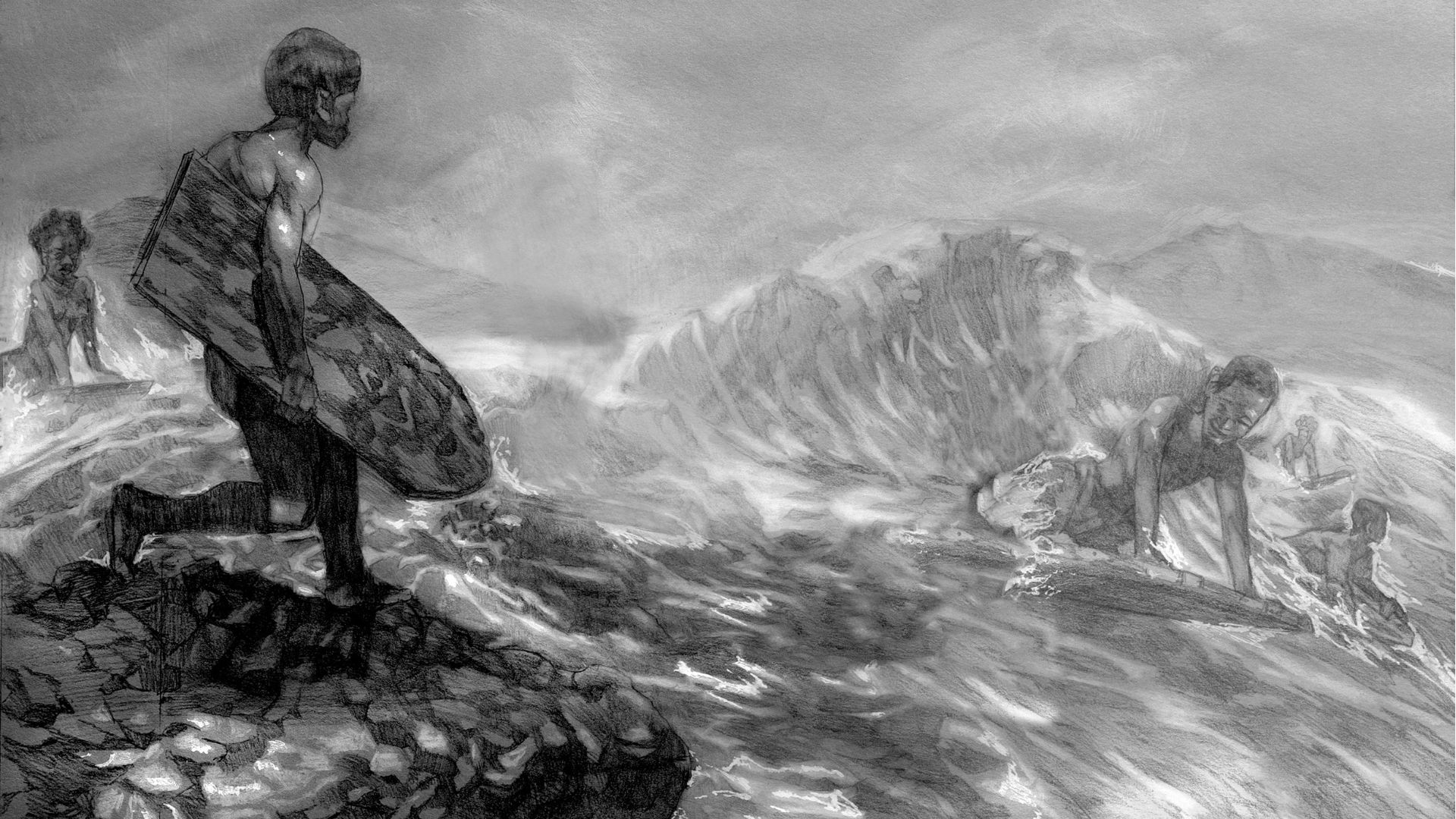 Wade in the Water: A Journey Into Black Surfing and Aquatic Culture
June 17
from
6:00 pm
–
9:00 pm
Join us for a pre-screening of Wade In the Water: A Journey Into Black Surfing and Aquatic Culture and reception with Brown Girl Surf, and Black.Surfers.
Meet leaders of these organizations and learn about their work supporting Black and Brown people to experience surfing and gain access to the joy and power of the ocean. Learn how to get involved in the movement to diversify surf culture including upcoming events and opportunities around the Bay and beyond. Post-screening Q&A and Talk Panel with David Mesfin, Director/Writer/Producer;
Beyin Abraha, Executive Producer; and Kayiita Johansson, Founder of Black.Surfers.
Learn about our accessibility options.
Program schedule:
6–6:55 pm – Opening Reception with Brown Girl Surf and Black.Surfers (OMCA Garden)
7:10–8:15 pm – Wade In The Water Film Screening (James Moore Theater)
8:15–9:00 pm – Post Screening Q&A & Talk Panel (James Moore Theater)

About Wade in the Water: A Journey Into Black Surfing and Aquatic Culture
An award-winning film by Creative Director and longtime surfer David Mesfin, Wade in the Water reclaims the 1,000-year-old tradition of Black surfing. Braiding historical accounts with modern-day testimonials, the film dismantles the racial barriers of conventional surf culture, delves into the overlooked history of Black surfing's legacy, and honors its current movement—inspiring the next generation of Black surfers.
About Partnering Organizations:
Brown Girl Surf:
Brown Girl Surf (BGS) is a fiscally sponsored project based in Oakland. Founded in 2011 by Farhana Huq, Named in honor of Polynesia's first female surfers. BGS envisions a world where all communities experience holistic health, safety, abundance and joy. Moving at the pace of the moon and the sun, we affirm the Earth and all beings. The mission of BGS is to cultivate a joyful surf culture in our own images, rooted in belonging, equity, love and a reverence for the earth. BGS does this by cultivating a community of ocean stewards and wave riders to increase our collective wellbeing, healing, and connection; dismantling white supremacy and colonial surf culture while building a surf/wave riding culture and narrative of belonging and abundance; and creating and increasing access to surfing and the ocean. Learn More – Instagram: @BrownGirlSurf
Black.Surfers
Black.Surfers is an organization that aims to attain equitable access to surfing for Black people through policy and community. They run a 600-person digital community chat, host surf trips, and advocate for policy change to remove the systemic barriers that prevent Black people from enjoying surfing. Learn More – Instagram: @Black.Surfers
David Mesfin – Director, Writer and Producer, Wade in The Water
Born in Ethiopia, David migrated to the United States at an early age. Growing up in St. Augustine, Florida, he was immersed in a vibrant local surf culture that conceived his passion for the ocean and nature.
After moving to the West Coast to receive his Bachelor of Arts in Visual Communication and Advertising from California State University, Long Beach, David connected with a community of Black surfers that introduced him to the historical context of surfing in Africa.
These formative experiences, which connect his lifelong passion and ancestral roots, spawned the creative inspiration and community-based collaborations that have bloomed into Wade in the Water.
Beyin Abraha – Executive Director, Wade in the Water
Born in Ethiopia, of Eritrean descent, and raised in Toronto, Beyin's introduction to surfing came through a college roommate. He's been hooked ever since.
In his day to day life, Abraha works with Beats by Dre as a Mechanical Product Design Engineer specialized on in-ear headphones. He has also enjoyed similar positions at Apple with the iPhone design team as well as at Tesla working on the iconic Model 3 electric vehicle in the past.
As an active community member, Abraha is the project manager and founding member of Sofly Surf School, an organization that gives free surf lessons in Huntington Beach, and holds the position of vice-chair on the board for PaddleforPeace, an organization offering holistic approaches to introducing people to the practice of surfing and protecting the ocean.
After being contacted by David to be featured in Wade in the Water (2022), Beyin's passion for surfing and community connections soon saw him transition into an integral role of bringing the project to life on shoot days as well as behind the scenes making sure things are on track.
Kayiita Johansson – Founder, Black.Surfers
Kayiita Johansson was born and raised in Minnesota. After living in Texas and NYC, Johnson moved to northern California in 2016 and lived there until settling in Oakland, California in 2021. He earned his bachelor's degree in electrical engineering from the University of Minnesota and a master's degree in business administration from Stanford. Formerly a product manager for Google Nest and a semiconductor sales and firmware engineer at Texas Instruments, he currently works as a product manager at a self-driving car company. Johansson has been surfing since 2014 and said he was drawn to the sport from the feeling of flowing with nature. It was an inevitable sport for him, he said, after spending much time skateboarding, swimming and body surfing throughout his childhood. He is the founder of the Black.Surfers, an organization that aims to attain equitable access to surfing for Black people through policy and community. They run a 600-person digital community chat, host surf trips, and advocate for policy change to remove the systemic barriers that prevent Black people from enjoying surfing.
Adriana Dominique Guerrero-Nardone, Executive Director – Brown Girl Surf She/They/Ella/ Elle
Adriana is the current Executive Director of Brown Girl Surf. Adriana joined the team in 2020 as the Associate Director, and brought over 15 years of experience in education and youth development.
As Executive Director, Adriana's work and passion includes working to build a more inclusive surf culture both locally and nationally through community programming, collaboration with ally organizations, and advocacy for equitable and inclusive coastal policies, all while centering joy as a form of community building and healing.
A common thread that weaves Adriana's professional aspirations and beliefs together is her pursuit of social justice with a youth development-lens and community-based approach. Over the last decade, Adriana has worked in a variety of capacities in the nonprofit sector across the globe with communities ranging in their socioeconomic, cultural, and language backgrounds. Outside of work, Adriana has served on the leadership team for Women's March Oakland and as the Secretary on the Board of Directors at Camp Phoenix, and the former Alpha Chi Omega Chapter Advisor at UC Berkeley.
Adriana holds a B.A in Psychology from Arizona State University and a Master's in Nonprofit Administration from the University of San Francisco.
Accessibility
The Oakland Museum of California (OMCA) is committed to providing programs that are accessible, welcoming, and inclusive of our community. Assistive listening devices and wheelchairs are available for checkout on a first come, first served basis at the Ticketing Desk. To request other accommodations, like American Sign Language (ASL), Cantonese, Spanish or another language interpreter, please email [email protected] at least three weeks before the event.