Hacia el resplandor: Artistas de Creativity Explored, Creative Growth & NIAD
Ahora en el I Great Hall
En colaboración con tres profundas instituciones del Área de la Bahía, Into the Brightness: Artistas de Creativity Explored, Creative Growth y NIAD celebra una miríada de obras de artistas contemporáneos con discapacidades del desarrollo. Desde la pintura a la escultura, pasando por el multimedia, estos artistas de renombre mundial producen obras de increíble fuerza, exuberancia, humor, complejidad y alegría.
Into the Brightness presenta una variedad de perspectivas dinámicas a partir de las experiencias personales de los artistas con el mundo. Se trata de la mayor exposición museística en más de una década en la que han participado artistas de tres organizaciones locales: Creativity Explored de San Francisco, Creative Growth de Oakland y NIAD (Nurturing Independence Through Artistic Development) Art Center de Richmond. 
Entre los artistas destacados figuran: Saul Alegria, Peter Cordova, Tranesha Smith-Kilgore, Marlon Mullen, Dorian Reid, William Scott, Dinah Shapiro, Nicole Storm y Marilyn Wong.
Into the Brightness is on view though Enero 21, 2024. Learn about our accessibility options.
Want to see it free? Members get unlimited admission to special exhibitions and galleries. Learn more about membership.
Destacados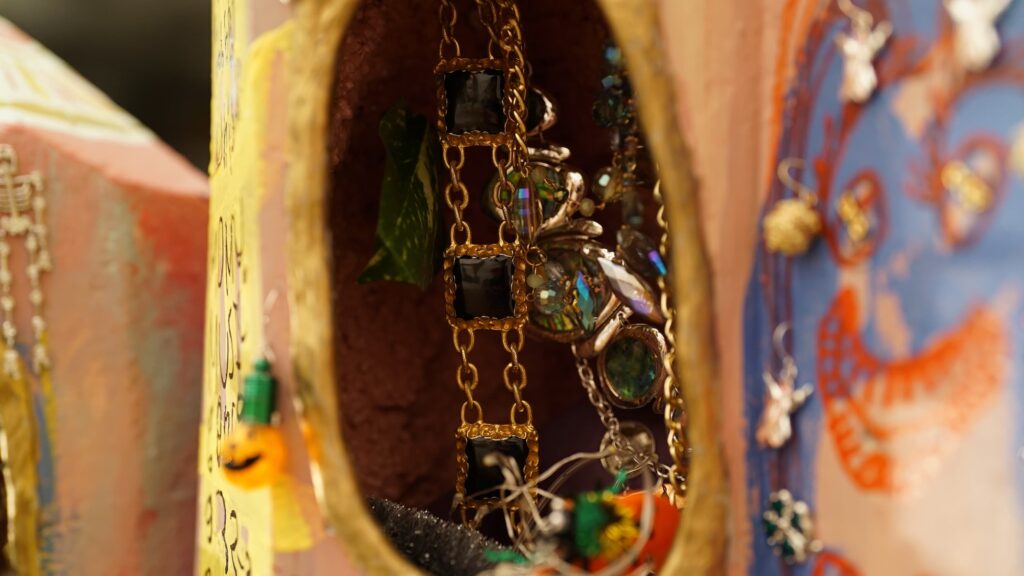 Más
Artistas colaboradores
Hacer Acma, NIAD Art Center
Ian Adams, Creativity Explored
Zachary Adams, Creativity Explored
Juan Aguilera, Creative Growth
Joseph Alef, Creative Growth
Saul Alegria, NIAD Art Center
Rickie Algarva, Creativity Explored
Sherrie Aradanas, Creative Growth
Rosemary Atteridg, Creativity Explored
Walter Baldwin, Creative Growth
Charlie Barthelet, Creativity Explored
Jo Beal, Creative Growth
Maria Berrios, Creativity Explored
Mireya Betances, NIAD Art Center
Laron Bickerstaff, Creativity Explored
Andrew Bixler, Creativity Explored
Lisa Blevens, NIAD Art Center
Marion Bolton, Creative Growth
Julien Borromeo, Creativity Explored
Vanessa Bravo, NIAD Art Center
Jeremy Burleson, Creative Growth
Reginald Burton, Creative Growth
Olivia Byers-Straus, Creativity Explored
Casey Byrnes, Creative Growth
Sylvie Carnot, Creativity Explored Volunteer
Miguel Chacón, NIAD Art Center
Kristian Cheek, Creative Growth
Shirley Chiu, Creativity Explored
Kira Chmelewski, Creativity Explored
Ming Choi, Creativity Explored
Ada Chow, Creativity Explored
Lawrence Choy, Creative Growth
Kevin Chu, Creativity Explored
Maureen Clay, Creative Growth
Deatra Colbert, NIAD Art Center
Eli Cooper, Creative Growth
Elana Cooper, Creativity Explored
Heather Copus, NIAD Art Center
Kevin Cordoba, Creativity Explored
Peter Cordova, Creativity Explored
Dre'An Cox, Creativity Explored
Lisa Craib, Creative Growth
Jay Daley, Creative Growth
Gina Damerell, Creative Growth
Janis Danker, Creative Growth
Lauren Dare, Creative Growth
James Davis, Creative Growth
Evelyn Davis, NIAD Art Center
Mia Mya Dawson, NIAD Art Center
Julio Del Rio, NIAD Art Center
Peter DeLira, Creativity Explored
Samedi Djeimguero, Creativity Explored
Emily Dunster-Farey, Creative Growth
Cheryl Dunn, fotógrafa independiente
Albert Duong, Creativity Explored
Raydell Early, Creative Growth
Heather Edgar, Creative Growth
Amid Ehsani, Creative Growth
Robert Erion III, Creative Growth
Ricardo Estella, Creativity Explored
Luis Estrada, NIAD Art Center
Jordan Evans, Crecimiento Creativo
Carlos Fernández, Crecimiento Creativo
Reed Feshbach, NIAD Art Center
Paul Fields, Crecimiento Creativo
Rosena Finister, Crecimiento Creativo
Katherine Finn-Gamino, Creativity Explored
Allura Fong, Creativity Explored
Christina Fong, Creativity Explored
D'Lisa Fort, Creativity Explored
Sylvia Fragoso, NIAD Art Center
Sher-ron Freeman, Creative Growth
James Freid, Creative Growth
Carol Fullen, Creative Growth
Janay Futch, NIAD Art Center
Ricardo Gaitán, Creative Growth
Liam Garsin, Creativity Explored
Jamie Ghilardi, Creativity Explored
Rosa Girón, Creative Growth
Susan Glikbarg, Creative Growth
Jorge Gómez, Creative Growth
Isaías Gómez, Creativity Explored
Michele M. Gonzales, Creativity Explored
Emmanuel Gonzalez, Creative Growth
Daniel Green, Creativity Explored
Joseph "JD" Green, Creativity Explored
Felicia Griffin, NIAD Art Center
Claus Groeger, Creativity Explored
Donald Gruneisen, Creativity Explored
Maribel Guzman, Creativity Explored
Natascha Haehlen, Creative Growth
Zina Hall, Creative Growth
Heather Hamann, NIAD Art Center
Dan Hamilton, Creative Growth
Isaac Haney-Owens, Creativity Explored
Raven Harper, NIAD Art Center
Shana Harper, NIAD Art Center
Peter Harris, NIAD Art Center
James Heartsill, NIAD Art Center
AJ Herzfeld, Creative Growth
Nita Mae Hicks, Creativity Explored
Stephanie Hill, Creativity Explored
Betty Hinman, Creative Growth
Graham Holoch, Fotógrafo independiente
Camille Holvoet, Creativity Explored
Shirley How, NIAD Art Center
Bruce Howell, Creative Growth
Rachel Huber, NIAD Art Center
Jesus Huezo, Creativity Explored
Josué Izquierdo, Creativity Explored
Isaiah Jackson, Creative Growth
Jason Jackson, Creative Growth
Nathaniel Jackson, Creative Growth
Vincent Jackson, Creativity Explored
Susan Janow, Creativity Explored
Rebecca Jantzen, NIAD Art Center
Valerie Jenkins, Creativity Explored
Nathan Jeung, Creativity Explored
Anne Johnson, Creative Growth
Cedric Johnson, Creative Growth
Hyo Ju, Creative Growth
Eunice Juarez, Creativity Explored
Kaocrew "Yah" Kakabutra, Creativity Explored
Carson Kau, Creativity Explored
Samantha Kershnar, NIAD Art Center
Shawna Kinard, NIAD Art Center
Jordan King, Creative Growth
Lakeshia King, Creativity Explored
Loren King, Creativity Explored
Nina Krietzman, Creativity Explored
Donna Kurtz, Creative Growth
Jack Lahaderne, Creative Growth
Nathan Lam, NIAD Art Center
Theresa Lambert, Creative Growth
Judith Larosa, Creativity Explored Staff
Andrea Leber, Creative Growth
Jamie Leingang, NIAD Art Center
Ade Lewis, Creativity Explored
Donzell Lewis, NIAD Art Center
Andrew Li, Creativity Explored
Daniel Li, Creativity Explored
Hanna Grace Lilly, Voluntaria de Creativity Explored
Melody Lima, Creativity Explored
Victor Limon, Creative Growth
Lisa Lipton, Creative Growth
Delia Liu, Creativity Explored
Steven Liu, Creativity Explored
Andria Lo, Fotógrafa independiente
Diana Lo, Creative Growth
Allan Lofberg, Creative Growth
Gabbie Lopez, Creativity Explored
Rae Lorvick-Patt, NIAD Art Center
Taneya Lovelace, Creativity Explored
Franna Lusson, Creative Growth
Julie MacDonald, NIAD Art Center
Gabriel Maduena, Creativity Explored
Sara Malpass, NIAD Art Center
John Martin, Creative Growth
Paulino Martin, Creative Growth
Samantha Mathews, Creativity Explored
Karen Mayo, NIAD Art Center
Marcus McClure, Creativity Explored
Aileen McCourt, NIAD Art Center
Jean McElvane, NIAD Art Center
John Patrick McKenzie, Creativity Explored
Anne Meade, Creativity Explored
Barbara Mealey, Creative Growth
Hiro Medina, Creativity Explored
Mack Mesler, Creativity Explored
James Miles, Creativity Explored
Dan Miller, Creative Growth
Kathleen Miller, Creative Growth
Jason Monzon, Creativity Explored
Monic Morris, Creativity Explored
Marlon Mullen, NIAD Art Center
Brian Nakahara, Creative Growth
Michael Napper, Creativity Explored Staff
Patrick Ng, Creativity Explored
Stephanie Nguyen, Creative Growth
Lien Nguyen, Creativity Explored
James Nielsen, Creativity Explored
Halisi Noel-Johnson, NIAD Art Center
Michelle Nonnarath, NIAD Art Center
Latefa Noorzai, Creative Growth
Ayana Norwood, Creativity Explored
Michael Nuñez, NIAD Art Center
Joseph Omolayole, Creativity Explored
Hiroshi Onodera, Creativity Explored
Nubia Ortega, Creativity Explored
Donna Osborn, Creativity Explored
Julian Ou, Creative Growth
Nick Pagan, Creative Growth
Miguel Palacios, Creativity Explored
Tony Pedemonte, Creative Growth
Selene Perez, Creativity Explored
Musette D. Perkins, Creativity Explored
Pamela Pianchachi, Creativity Explored
Lynn Pisco, Creative Growth
Shui Wah Poon, Creative Growth
Jason Powell-Smith, NIAD Art Center
Karla Quinonez, Creativity Explored
Maria Radilla, NIAD Art Center
Aurie Ramirez, Creative Growth
Yolanda Ramirez, Creativity Explored
Guadalupe Ramos, Creativity Explored
Malia Ramsey, Creative Growth
Larry Randolph, Creative Growth
Elizabeth Rangel, Creative Growth
Roland Record, Creativity Explored
Barry Regan, Creative Growth
Dorian Reid, NIAD Art Center
Ethel Revita, Creativity Explored
Emma Reyes, Creativity Explored
Karen Ridge, Creative Growth
Irene Rivas, Creativity Explored
Clementina Rivera, Creativity Explored
Lance Rivers, Creativity Explored
Kevin Roach, Creativity Explored
Shantae Robinson, NIAD Art Center
Jessica Rodriguez, Creative Growth
Quintin Rodriguez, Creativity Explored
Carlota Rodriguez, NIAD Art Center
Xiomara Rosales, NIAD Art Center
Vanessa Ruffin, Creativity Explored
Lena Saavedra, Creativity Explored
Benji Saechaoe-Chung, Creativity Explored
Yukari Sakura, Creativity Explored
Jesus Salas, NIAD Art Center
Lena Salk, Creative Growth
Peter Salsman, Creative Growth
Alice Sampson, NIAD Art Center
Armando Sanchez, Creativity Explored
Karla Joanna Sanchez, Creativity Explored
Shawn Sanders, NIAD Art Center
Jade Saren, Creative Growth
William Scott, Creative Growth
Dinah Shapiro, Creative Growth
Douglas Sheran, Creativity Explored
Hung Kei Shiu, Creativity Explored
Ka Wai Shiu, Creativity Explored
Esmeralda Silva, NIAD Art Center
Tre'von Silva, NIAD Art Center
Anne Slater, Creativity Explored
Tranesha Smith-Kilgore, Creativity Explored
Calvin Bernard Snow, Creativity Explored
Lulu Sotelo, Creative Growth
Guadalupe Soto, NIAD Art Center
Louie Spagnola, NIAD Art Center
Joe Spears, Creative Growth
Kimberly Spivey, NIAD Art Center
Ruth Stafford, Crecimiento Creativo
Charles Stanberry, Creativity Explored
Sherrie Stanley, Crecimiento Creativo
Jack Starbuck, Crecimiento Creativo
Nicole Storm, Crecimiento Creativo
Amani Swalim, Creativity Explored
Julie Swartout, Creative Growth
Christine Szeto, Creative Growth
Danny Thach, NIAD Art Center
Faithe Leyandre Thomas, NIAD Art Center
Kate Thompson, Creativity Explored
Henry Trockle, Creative Growth
Miyuki Tsurukawa, Creativity Explored
William Tyler, Creative Growth
Alice Ung, Creative Growth
Jonathan Valdivias, NIAD Art Center
Monica Valentine, Creative Growth
Christian Vassell, NIAD Art Center
Ron Veasey, Creative Growth
Jonathan Velazquez, NIAD Art Center
Ray Vickers, Creative Growth
Cheryl Ward, Creativity Explored Board
Tanisha Warren, Creative Growth
Nancy Weigan, Creative Growth
Kathy Wen, Creativity Explored
Arstanda Billy White, NIAD Art Center
Nakiesha White, NIAD Art Center
Gerald Wiggins, Creativity Explored
George Wilson, Creative Growth
Emily Witkin, Creative Growth
Alice Wong, Creativity Explored
Andrew Wong, Creativity Explored
Marilyn Wong, Creativity Explored
Cassara Wong, NIAD Art Center
Alexander Yeap, Creativity Explored
Doris Yen, Creativity Explored
Yang "Buurin" Yu-Zhen, Creativity Explored
Edwin Zalenski, Creative Growth
Kathy Zhong, Creative Growth
Ying Ge Zhou, Creative Growth
Angel, Creativity Explored