Gallery of
California History
"Coming to California" is the Gallery of California History's overarching theme, emphasizing the profound impact of the many people who have made this state their home. The story begins with Indigenous peoples and continues through to today with the increasing influx of people from all over the world. Trace the ways Californians have forged relationships with each other, the environment, and the world through 2,200 artifacts, works of art, photographs, and more.
Highlights
Taking Native Lands and Lives
Learn about the genocide of Native peoples in the early era of California's statehood and the impact it continues to have on contemporary California.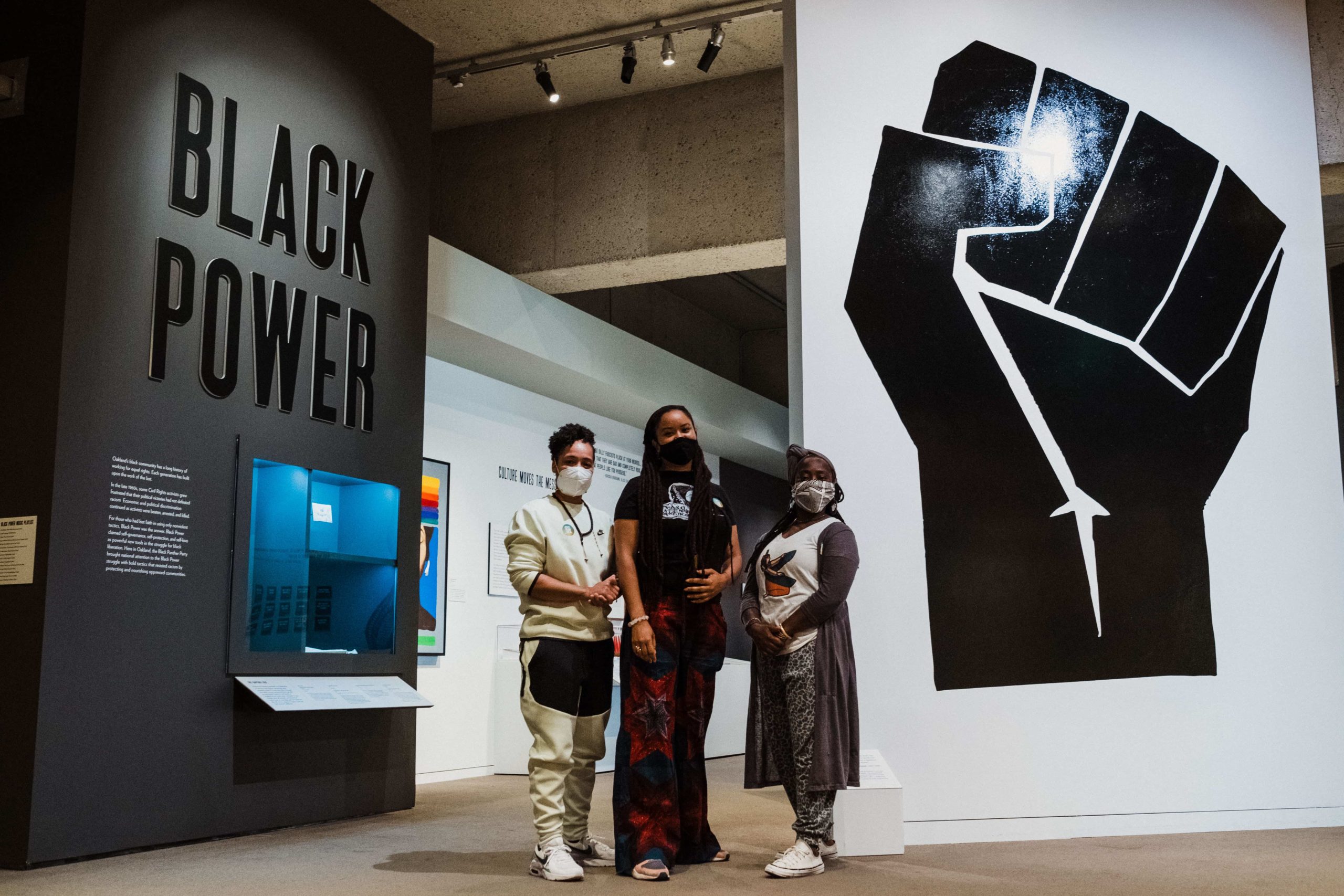 Black Power
Uncover the history of the Black Power movements and explore the creative ways Black anti-racist activists in California supported their communities and challenged the U.S. government.
The Black Power fist is a symbol of pride and solidarity with oppressed peoples of the world. Oakland's Black community has a long history of working for equal rights. Each generation has built upon the work of the last.
Sent Away
Come hear first hand accounts of Japanese Americans forcibly removed from their California homes and incarcerated during during WWII.
History Now: U.S. Immigration: Who Is Let In, Who Is Kept Out?
As we grapple with immigration, belonging, and citizenship in our country today, is it possible to move towards a more inclusive future? Explore OMCA's latest pop-up installation U.S. Immigration: Who Is Let In, Who Is Kept Out? in our Gallery of California History. Learn about the Chinese Exclusion Act of 1882. Understand the impacts of exclusionary sentiments and policies around immigration.
History is happening every day and we all help shape it. A 350-square-foot section of the Gallery of California History, History Now features timely, rotating installations emphasizing current events in an interactive space that invites visitor commentary and feedback through thought-provoking prompts and powerful historical objects from OMCA's collection.
Before the Other People Came
Explore seven different geographic regions of California as contemporary Native People describe the histories of their ancestors, their relationships to the land and each other, and the innovative practices that they crafted to live in each dynamic natural environment.
Hollywood: Coming for Dreams
Visit the "Hollywood" section of the gallery to design costumes, make your own animated cartoon, and create film sound effects in the "Foley" Studio.